Building Homes, Building Hope.
Arkansas City Habitat for Humanity is a non-profit, ecumenical Christian ministry whose mission is to partner with qualified families in need and provide them the opportunity for safe, decent, affordable housing.

Progress at House 14
Hi everyone. Yesterday (3/5/15) was a full and fruitful day for habitat house #14 and partner family Amy Townsend and her children.
Faithful Plumbing (Faybien Rosales and helper) arrived early and completed all of the in-house plumbing by mid morning. Jeff Blubaugh, owner of Agape Trenching, came around then and dug all of the trenching for connecting the water and sewer lines from the mains to the house. Around noon the City crews arrived to install the connections and all work including backfill was done by mid afternoon.
At 2 pm Amy and I met with Tamara in her office to close on the sale of the house to Amy. Many thanks to Tamara for her very capable work in putting together all the documents (including several new forms now required by federal law) and going through them with Amy at the closing.
Amy and her family spent most of the day cleaning the house and getting it ready for the open house. It looked very good when we held the house blessing and dedication a little after 5 PM. Thanks to all of you that were able to attend. I thought it went well and was a joyful, blessed ending to our months of work to build this new home for Amy and her children. Thanks also to Jerry Hooley who conducted the blessing of Amy's new home.
As always, thanks for all each of you do to support and help our habitat housing ministry accomplish its work.
-Curt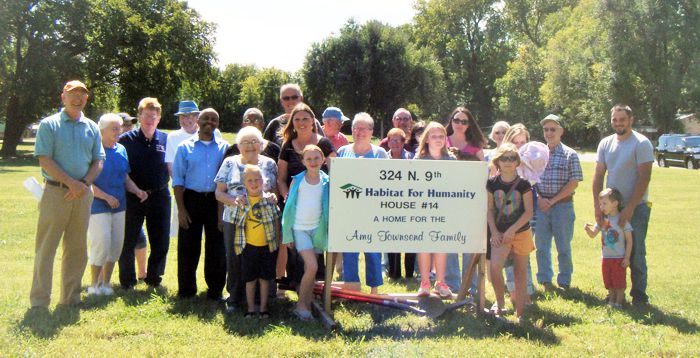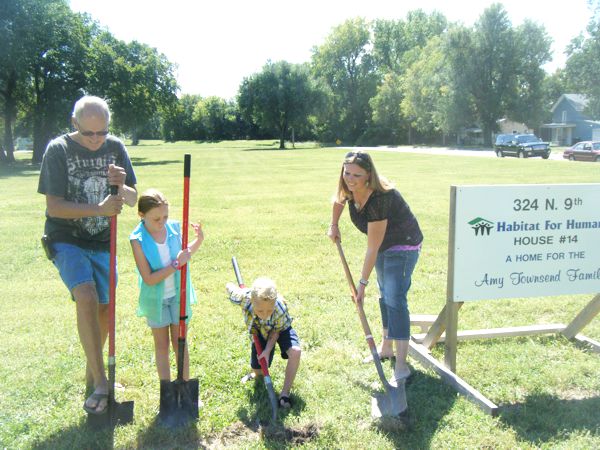 The Amy Townsand Family breaks ground for House 14.

to get a better understanding of what Habitat for Humanity does, please watch this video.
Thank you Cowley College for producing this.
<![if !vml]>

<![endif]>
Habitat homes are constructed primarily by volunteers, using both donated and purchased building materials. It takes approximately six months to complete a Habitat house.

Our partner families fulfill their required 300 hours of sweat equity by helping build their home and by assisting with Habitat fund raisers. Some of our houses are partially sponsored by churches, businesses, organizations, or individuals.

We sell our houses at no profit, offering our partner families a 20-year, interest-free mortgage. Monthly payments range between $400 and $450, depending on taxes and insurance. The monthly payments are then used to help fund the building of more houses. We also tithe 10% of our income to Mexico Habitat for Humanity which is normally enough to build one house in Mexico for each house we build locally. Donations, which are tax deductible, are always welcome.

Becoming one of our partner families is the beginning of a long-term relationship with us. To become a partner family, the applicant must

Demonstrate a need for better housing

Have enough yearly income to meet the financial responsibilities of home ownership

Be willing to partner with us by providing 300 hours of sweat equity working on their Habitat house.

Once an application is completed, it is carefully reviewed by the Family Selection Committee of the Arkansas City Habitat for Humanity organization and a home visit is made. Qualified applicants need to be approved by the Arkansas City Habitat for Humanity Board of Directors.

Mike and the "baby" of the Segree family, Miley,

break ground together.

Recipients of House 13 breaking ground.

While most volunteers choose to work on-site, there are several other opportunities for volunteering in our organization. All of the committees are made up of community volunteers including:

Family Selection Committee

Church Relations Committee

Site Selection Committee

Family Support Committee

Publicity Committee

Volunteer Recruitment Committee

Fund Raising Committees

To volunteer, contact us by:

We will provide additional information on opportunities for you to volunteer.

The location of our current worksite can be obtained by calling the above number. Anyone over the age of 14 can volunteer, though there are some limitations for volunteers between 14-18 years of age.

We welcome all volunteers!